In a year that has seen one of the most destructive hurricane seasons in recent memory, it is more important than ever that we remain aware and vigilant of the significant impact major events like these storms can have on the lives of workers in the affected areas. The events of this year have affected thousands of lives and challenged organizations and their managers to show compassion, empathy, and respect for workers who have directly or indirectly experienced the extreme results of natural disasters.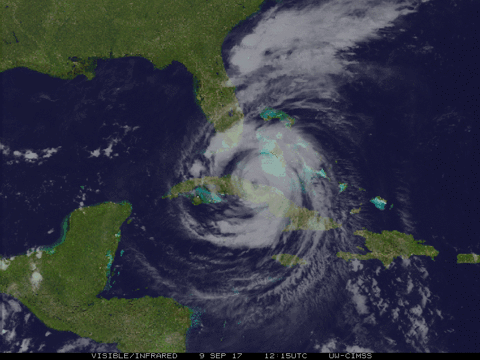 Natural disasters like hurricanes, floods, and earthquakes create new and unexpected levels of stress among employees, potentially leading to an increased risk for injury. In difficult times such as those experienced by several American communities this summer, organizations must remain sensitive to the factors that contribute to increased risk in the workplace and ready to respond with support for employees during an incredibly difficult time.
Pain and discomfort can be debilitating in the best of times.
Compounded with the stress induced by a natural disaster, this places employees at an exponentially greater risk for serious injury.
In this 2016 post, we addressed several factors that represent potential sources of psychosocial stress that can lead to injury. Whether your organization is operating under normal conditions or you've recently experienced a major event like a natural disaster, it's essential to be aware of these new risk sources and ready to respond in effective, compassionate ways to help workers deal with challenging conditions. Focusing on the Body, Behavior, and Environment in times of high anxiety and stress will help to ensure a safer workplace and healthy employees.
Common Psychosocial Traumas
Natural disasters place a major burden on the people they affect, even for those who did not encounter the actual event in person. In the modern workplace, it's essential to provide support for employees who are dealing with the direct or residual effects of a disaster. Sadly, not nearly enough employers have systems in place to respond to trauma. Over half (53%) of employees reported experiencing a traumatic event, but of these, only 46% said their employer was prepared to offer support services during the aftermath of the event. By implementing protocols for handling the physical, emotional, and mental needs of employees following a traumatic event, employers can create a culture of support and care that will inspire better performance and reduced costs.
Diminished Coping Abilities
In the wake of a major disaster like a hurricane, it is very common for workers to experience greater stress levels upon their return to work. As the environment around a worker's life becomes dangerous, the stress can hinder their ability to manage other factors that naturally occur in the workplace, including day-to-day job responsibilities. Employers must be prepared, both from a Human Resources perspective and one of compassion, to understand the psychological toll of a major disaster and to help employees manage problems like social withdrawal, hopelessness, and other subconscious coping strategies.
Anxiety and Depression
Rates of depression are already higher among people facing chronic pain, with over 50% of chronic pain populations reporting symptoms of the challenging mental illness. Add to that the immeasurable effects of a major natural disaster and you have the potential for significant challenges once your workforce returns to the job.
When an employee is anxious or depressed, they will often struggle to remain effective in their role. Anxiety disorders create significant obstacles for workers in the aftermath of major trauma, and can lead to more major issues like panic attacks.
In cases related to depression or anxiety, offering a counseling option for workers can relieve the emotional pressure of returning to work in a less-than-ideal mental state.
What Can My Organization Do To Help?
When a disaster strikes, the onus lies with the employer to provide stability and support for workers who have been affected. This responsibility begins at the leadership level and trickles down to all facets of an organization's management strategy.
The Basics: Safety
The Occupational Health and Safety Administration (OSHA) has outlined several common issues that often occur in the aftermath of a major storm, along with several strategies for mitigating the risk associated with these aftereffects. Among them are:
– Toxic substances may have found their way into water supplies after a disaster. To combat this, employers should provide proper ventilation for work spaces, and only allow properly trained employees to access areas that may have been contaminated. Likewise, ensure that your employees are up-to-date on their vaccinations, especially tetanus (within the last 10 years), and discard all materials that have been visibly tainted by contaminated water.
– Train employees to assume that all power lines are active and should not be handled. Stay 10 feet from downed power lines, and only allow workers with proper protective equipment to approach damaged lines.
– High winds can destroy trees and buildings. Establish a clearly marked danger zone and keep employees outside risk areas until utility services have cleaned up the damage.
The Real Challenge: Leadership and Empathy
It's common for employers to assume that workers compensation exists to repair the damage experienced by employees following a disaster. While workers compensation, when effectively managed, can indeed help employees during the recovery process, it's important to note that without proactive strategies to keep employees safe, organizations are vulnerable to lawsuit.
The answer, then, is not to simply allow workers compensation claims to solve all the problems faced by workers in the event of a major trauma. A better solution lies in intentional, empathetic support from leadership, who can define the culture around an organization so that workers understand their resources and how to find help in the event of a major disaster. Nearly half of employees would like their employers to provide counseling and emotional support, a statistic that would likely balloon if a natural disaster were to take place. Focus on proactively educating your workers about remaining safe and emotionally capable during an emergency, and you'll reap the benefits when your employees are able to return to work without the added stress of injury or additional anxiety.
For more information about how to help your employees deal with the effects of a disaster, please read our guidelines to approaching the psychosocial factors that influence chronic pain and injury among workers.
Enjoy this article? Don't forget to share.
About the Author
Say Goodbye
to employees' pain, high healthcare and workers' compensation claims and costs.
Learn more